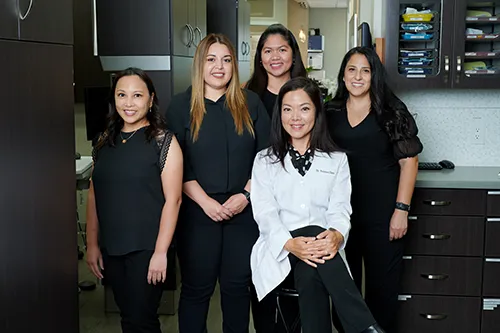 Dentist in Fremont, CA
All our professionals at Yvonne Chen, DMD maintain the highest levels of accreditation and pursue ongoing education to stay abreast of the latest trends in dentistry.
Yvonne Chen, DMD
Prior to moving to the Bay Area, Dr. Yvonne Chen lived her childhood years in Taiwan, then moved to Massachusetts. She attended Milton Academy for high school, graduated Clark University with cum laude, and worked at Harvard University's cell biology department, before attending the prestigious Tufts School of Dental Medicine in Boston. She has been practicing dentistry for about 10 years, serving the East Bay Fremont community for the past 5. Dr. Chen never ceases to learn and stays abreast with continuing education and cutting edge technology. She places comprehensive quality dental care and comfort of her patients as her number one priority. She is a firm believer that old age does not have to mean having no teeth.
She is a member of the American Dental Association, California Dental Association and South Alameda Dental Association. She has participated in humanitarian projects in Asia and South America.
When Dr. Chen is not spending time with her patients to improve their smile, you can find her enjoying the great outdoors, watching documentaries or indie films, practicing yoga, listening to music, or learning to dance.
Christia, Registered Dental Hygienist
Bio Coming Soon!
Blanca, Registered Dental Assistant
Bio Coming Soon!
Jessica, Executive Assistant
Bio Coming Soon!
Briana, Office Manager
Bio Coming Soon!